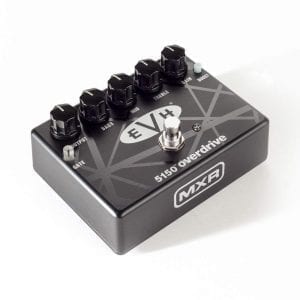 When you think of high-gain overdrive, the screaming rock solos of the '70s and '80s definitely come to mind. If that's the sound you're going for, you definitely want to check out this pedal designed in collaboration with one of the icons of the era: Eddie Van Halen. The EVH5150 is a beast of a pedal with a flexible overdrive effect that sounds great in any situation.
The EVH5150 seems like it should be a bigger pedal than it is. There is an impressive number of customization options for a pedal that weighs less than a pound. This does make the interface feel a bit crowded. Combined with the black-on-black color scheme, it might be tricky to adjust in low lighting. Still,
Here's the deal: The EVH5450 can take you from subtle warmth to super saturation and everything between. It's the pedal you want if you're looking for full control over your sound, and you can count on it for a great tone no matter what kind of amp you're playing through.
Features:
Controls: 3-band EQ, output, and gain knobs; boost and gate switches
Dimensions: 5.5" X 4.5" X 2.5"
Weight: 7.4 ounces
Power: 9V battery, AC adapter, or DC Brick
True Bypass