Smaller than the first youth option, it's made of quality materials and could be perfect as a low-cost starter.
Backboard Size
On this hoop, you'll find a 28-inch backboard designed specifically as a youth model.
Backboard Material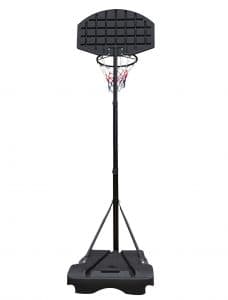 It's an impact model that's made of high-density polyethylene. It's nearly impossible to break.
Pole
The 2-inch diameter pole is made of rugged steel and able to remain stable when dunking.
Adjustable Hoop
This hoop has a telescopic pole that goes from 5-foot 6-inch to 7-foot in total height.
Base Design/Stability
The base is also made of weather resistant polyethylene and can be filled with up to 55 pounds of water or 66 pounds of sand. Its base is modestly sized, at only 5-inches in total height. It's fitted with attached wheels and is one of the most lightweight designs on the market.
Hoop Style
The hoop is a 17-inches folding style made of .5-inch steel.
Type of Net
Nylon netting offers all-weather performance for years to come.
Warranty
Movement God ships their Youth Portable Hoop with a five-year warranty and 100% satisfaction guarantee.