The nifty easy and quick to use. Some reviewers even said that it makes cleaning floors fun! This spin mop has a 180° rotating head and a 47"-56"-long extendable handle for reaching any place.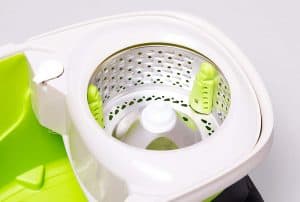 Here's a look inside:
A patented spin drive handle is used to push the mop up and down in the spin bucket within a larger bucket. Mopnado Stainless Steel Deluxe Rolling Spin Mop has a mop plate with gears that keep the mop head spinning with less effort from you. Simply rinse the mop head in one side of the larger bucket and then spin the mop head as fast and for as long as you want in the smaller spin bucket to extract water. The larger bucket's built-in soap dispenser and rinse agitator help clean the mop head. A win-win: wash your mop (and keep your floors clean) as you use it!
Even better:
Users found they saved money and the environment by reusing the mop head for up to six months. For replacement mop heads, order here.
Take a look:
This video shows the Mopnado Stainless Steel Deluxe Rolling Spin Mop in action.
Features
47"-56"-long retractable handle
Stainless steel spin bucket inside larger dual-handle bucket with wheels
Includes two 14" microfiber heads and one 14" scrub brush head
Dimensions: 5" x 20" x 13"
Weight: 9 pounds, 14 ounces