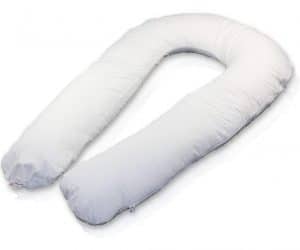 One of the first things we noticed after taking this one out of the box is it just looks so cuddly. Thankfully, comfort is not the only positives of this body pillow, as it provides a range of support for your body during sleep.
During testing, we realized first and foremost that the pillow was very fluffy. The internal filler is a premium synthetic down, which gives the pillow its shape and provides comfort and resists dust mites, allergens, and other sleep inhibitors.
The manufacturers actually promote this body pillow to be manipulated for other uses, and indeed remained extremely comfortable napping on the couch, or propped up for reading a book. The internal filler never clumped together while manipulating the pillow, meaning all round comfort and shape remained.
In fact, during testing, we found the pillow didn't tend to lose its shape much at all. We didn't really have to fluff the pillow nearly as much as other body pillows.
It sports a conventional 'U' shape and provides great support for your back, hips, neck, head, and joints.
Specifications
Cotton construction
10 pounds
60 x 7 x 35 inches
Synthetic down filler
Large size and kids size available