Mooka's Ultrasonic Cool Mist Humidifier gives you an extra layer of protection with its 4-layer filtration system designed to remove the unwanted minerals and prevent it from mixing with the mist. The filtration system is important for those who prefer to use tap water instead of distilled or purified water when topping up their cool mist humidifier.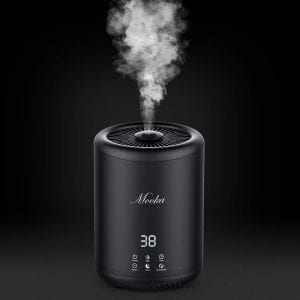 We found the Mooka humidifier to be really quiet, which gives it a slight advantage over the other humidifiers we've tested. Mooka's low noise level makes it a perfect fit for any nursery.
Suggested pair:
Get yourself a reliable indoor thermometer to help you accurately measure the humidity and temperature in your room. Keep your humidity levels between 30-40% to get the most out of your humidifier.
Watch the Mooka Cool Mist Humidifier here:
Features:
4-layer water filtration
Built-in sensor and controls
Quiet mechanism
Touch controls