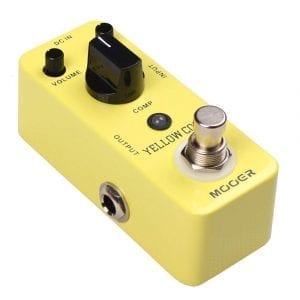 If you're looking for a simple, classic compression, the Yellow Comp is just enough pedal to meet your needs without getting in your way. This is the second entry in the company's Micro Pedal line, which brings you quality effects in a palm-sized pedal, perfect for any gigging musician.
The way the Yellow Comp smooths out the decay of your notes is especially impressive. It's not a pronounced effect. There is absolutely no tone coloration, just a subtle improvement to your overall sound. Your sustained tones will be fuller with a more natural decay, and the response across the range will feel more balanced.
So what?
If you're basically happy with your tone but just want to give it that extra smooth tone you hear from the professionals, the Yellow Comp will give you exactly what you're looking for. Its small size and all-metal construction also make it a smart choice for gigging guitarists.
Specifications:
Power: 9V DC only (no battery)
Weight: 6 ounces
Dimensions: 1.25"W X 1.25"H X 3.5"D
Controls: Volume, EQ, Comp (compression)