The Molten BGGX is part of the X-Series – a line with some pretty amazing basketballs!
The BGGX is FIBA-approved and offers some pretty cool features you won't find in any other game ball in a similar price range.
Here's the deal with this one: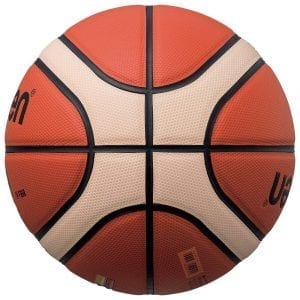 We instantly realized this ball has an amazing design. Not a lot of people notice that.
Anyway, the best feature on this basketball is its 12-panel Giugiaro design, which basically uses color contrast to enhance the rotation visibility of the ball. It takes some time getting used to, but once you do, it becomes a great tool to outplay your opponents.
Now, the BGGX feels quite nice to touch and we didn't really find any problems with its grip either. It has a consistent bounce, thanks to its Butyl Bladder.
One more thing we really like…
Molten is one of the few companies out there offering a 2-year warranty on their basketballs. That's pretty amazing!
But alas…
This ball is far from perfect, and there are several reasons it's near the end of our list.
Right out-of-the-box, the ball feels a little TOO sticky; almost as if it has glue on it. And if your hands start sweating, FORGET about control.
Over time, of course, the touch gets better as the tackiness starts to wear off. But, it takes time, and you can decide for yourself if it's really worth the wait.
Plus, the leather composite material doesn't really feel as good as the previous models.
Note: Make sure that you buy an already inflated ball. Lots of customers faced difficulty trying to inflate these on their own.
Features:
FIBA-approved
12-Panel Giugiaro design
Composite leather cover
Butyl Bladder
2-year warranty