The S6345EP is a premium product that features Moen's latest Immersion Technology. The product comes with a tiny lever that allows the user to choose from either a calming rain rinse function or a self–pressurized spray. It also meets EPA's water sense criteria so the unit conserves water without sacrificing performance.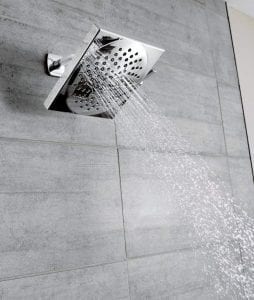 But that's not all…
The shower head's dimensions are 10.5 x 9.5 x 4.1 inches, and it comes in classic chrome colors. The unit has an output capacity of 2.0 gallons per minute that enhances the shower experience of the user, especially because of its gentle outflow.
A word of caution: 
Unfortunately, the product is difficult to fix with other shower head arms as Moen has a unique size of the attachment knob. Plus, it doesn't come with an extension arm, which is disappointing since this shower head is relatively expensive.
However, you can always buy this external curved extension arm from Moen to make up for it!
Features:
Chrome Finish: Highly reflective for a mirror-like look that works with any decorating style
8-1/2" Diameter Spray Head
Advanced, self-pressurizing Moen Immersion Technology
Two-function combination spray for more variety; concentrated rinse; full rain shower
Meets EPA WaterSense (r) criteria to conserve water without sacrificing performance
Limited lifetime warranty