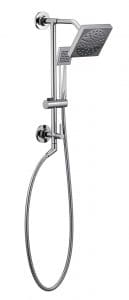 The S6340 is a single function showerhead that offers an advance, self-pressuring technology that channels water through the showerhead with an increased spray power for a thorough rinse. Moen has diversified its niche to aim at households that can't afford its high-end premium products.
Let's dig into the details:
The product features Moen's Immersion Technology that considerably increases the water spray power and output. It also prevents water from clogging to the surface of the showerhead to ensure a steady stream of water flow throughout the shower. According to our research, the showerhead gives an output of 2.5 gallons per minute.
Although this product costs much less than Moen's other showerheads, it can still seem slightly more expensive compared to some other brands. The good thing is, though, you get some cool features to make up for the price.
Features:
6" Diameter Spray Head for exceptional water coverage
Advanced, Self–Pressurizing Technology: 3x higher spray power for a more thorough rinse
One–function Full Spray
Limited Lifetime Warranty