The S6320 has a classy chrome finish that complements pretty much every bathroom design. The unit is equipped with the Immersion technology which is a self-pressurizing system that continuously intensifies the flow of water to deliver a thorough rinse every time you shower.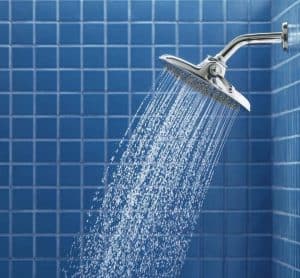 All good things come with a price:
Yes, this product comes with a big price too. It's very expensive compared to other rain shower heads, but it offers a lot of cool features to make up for it.
The product features two spray modes that offer a customized water flow. So you can conveniently switch between concentrated and rain rinse modes.
We found the 8-inch diameter of the S6320 rain shower head gives a water output of about 2.5 gallons per minute through its 100 tiny nozzles. Use it with this curved extension arm for an exhilarating, true rain-like experience!
Features:
8-inch shower head delivers expansive water coverage
Immersion technology increases spray power for a thorough rinse
Adjustable water flow lets you easily switch between concentrated and rain rinse modes
Mirror-like chrome finish complements most bathroom styles
Backed by Moen's Limited Lifetime Warranty