The first thing that comes to my mind when looking at this product is "swan".
It gotta be those elegant curves.
But well-thought aesthetics are not everything about the Moen Eva faucet. It has a 3-hole mounting system, with seperate levers for water control and you'll get a lifetime warranty on this one as well.
But, does it withstand our scrutiny?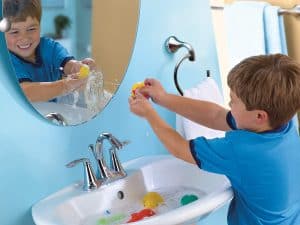 Overall, the technical details are pretty good. It meets EPA water efficiency standards, so the fixture is an environmentally responsible buy. The Eva also comes with a lifetime warranty, perfect for the buyer that likes to save on maintenance.
You can get this faucet in different finishes, like Brushed Nickel or Oil finished Bronze. They're all quite different in terms of design, so you can easily adapt the Moen Eva to your bathroom decorations. If you want to go all the way, you can also purchase the assorted towel ring, available in a similar finish here.
However, nothing is perfect…
This type of faucet is renowned for faulty levers over time. One of the experts we talked to had this piece installed in his bathroom. Over time the right handle got rigid, making it hard to use.
Luckily, Moen stayed true to their lifetime warranty promise and sent in a replacement. However, if you're not one to bother with customer support, look for something else.
More on that point, a lot of people from our focus group complained about the water pressure, saying it was too low. While you won't be filling buckets with the water flow, it's high enough for daily needs.
If you're seriously considering this piece, here's a short clip detailing the set-up of the fixture, just so you know what to expect.
Features
3 - hole mounting
2 levers for water control
Lifetime Warranty