If you want to buy a brand-new kitchen faucet, Moen is a great choice. This popular brand is dedicated to providing customers with aesthetically pleasing and functional products.
This amazing faucet comes in various finishes, so you can choose the one that fits best into your kitchen. The installation is made extremely easy, because of the Duralock quick connect system. You don't need tools when installing this faucet, and the water lines can be connected in just one step.
The most popular feature of the Moen Arbor Motionsense is the hands-free activation. The faucet features a top and front sensor, so activating it demands just a quick hand movement. This means the faucet needs less cleaning, you don't spread germs as often, and it's exceptionally convenient.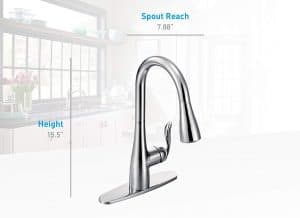 And when it comes to keeping the faucet clean, this model makes it exceptionally easy. The hands-free function makes sure you don't touch the faucet too often, but the finish is also specially designed to be resistant to water stains. Also, this faucet has a minimalist design, so cleaning is done in a matter of seconds.
This faucet is also quite functional. It features two spray modes: an aerated stream and rinse mode. This means the stream can be softer for everyday use, or more forceful for those hard-to-remove spots.
With this faucet, flexibility is the name of the game. That's why it features a long hose, which enables you to easily clean in and around your sink. And when you're done, the hose can be simply returned to its original position.
But there are also some cons to buying this faucet. Some users report the filters are prone to clogging. Also, the extendable hose doesn't snap back into place but has to be manually returned.
Users also report there's a difference between turning on the faucet using the hands-free method versus turning it on manually. Namely, the stream is less forceful when turned on manually. And if you have a rick of pipes freezing in the winter, keep in mind this faucet cannot be left to drip for a longer amount of time.
Features:
Dimensions: 26.5 x 14.8 x 4.1 inches
Flow rate: 1.5 GPM
Material: Metal
Deck mounted installation (1 or 3 holes)
Reflex system
Duralock quick connect system
Power Clean Technology
2 spray patterns
Motion activated
68-inch hose
Spot-resistant finish
5-year warranty on digital components
Includes 6 AA batteries
Escutcheon included