With over a century of experience in making footwear, Mizuno is a strong competitor to some of the better-known brands on this list. To make their products even better, they've patented their own technologies, which we've had the chance to test while trying out their Prophecy 5 Running Shoes.
For us, the best part of these shoes were the uppers. Made from high-quality AIRmesh material, they're so breathable, you can almost feel sweat leaving the shoes while still wearing them. To make it even better, the material is reinforced so that the end product is among the more durable on this list.
And guess what: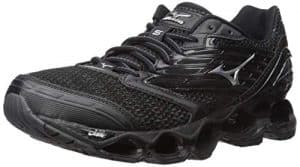 Thanks to Dynamotion technology, these uppers are capable of adjusting to your foot's shape. This makes them very comfortable to wear, even for longer periods of time. The interior features a sock liner that adds to comfort, wrapping the feet snugly and keeping them warm.
Now:
What about support and comfort? Mizuno have their own technology that takes care of this, which they call SmoothRide midsoles. While the midsole itself is made from the company's own compound, it also features Flex Controllers and Flex Grooves in both the heel and forefoot areas. The result is a rocking-chair motion that provides a much smoother ride.
Another one of Mizuno's technologies – Infinity Wave – actually refers to soles with plates in them, the purpose of which is to achieve a balance between stability and cushioning. The plate's job is to absorb and then dissipate impact forces while you're on the move. We have to say it definitely made it fun to run in these shoes – it produces an odd, yet pleasant sensation of walking over dry twigs.
However:
Since it's sandwiched between cushioning pillars, this plate is supposed to provide both support and comfort. We have to say we were a bit disappointed in it. The shoes weren't as comfortable to walk in as we'd hoped and we had a feeling that they could give more support than they were already giving.
We've also found the shoes a bit too heavy, especially for running and all-day wear. Also, if you have wide feet, be careful when checking measurements. There have been complaints from people saying Mizuno's models are smaller than they used to be.
Features
High-quality AIRmesh uppers
Dynamotion fit
Infinity Wave Technology
SmoothRide midsoles
Rubber outsoles
Sockliner