If you want a truly great stovetop espresso maker, this is probably one of the best offers on the market. Minos Moka Pot Espresso Maker is characterized by a great design.
It looks modern and sleek.
The designer team has really achieved something great here. This stovetop has a smaller rim at the top, which is actually very good.
Why?
It's much safer to use.
This way, the risk of spillage is way lower.
Is it really that good?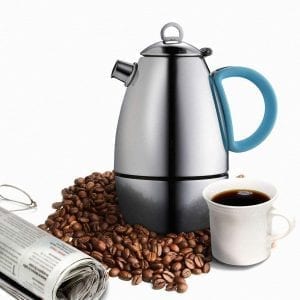 Our experts think so.
The Minos Moka Pot Espresso Maker is made of stainless steel. Compared to aluminum, stainless steel is simply built to last.
It can withstand heat much longer than regular aluminum. In our testing, this stovetop has performed very well on all kinds of stoves, from electric to gas, and even ceramic.
The bottom line?
It's reliable and makes great coffee.
What else?
It's simple to use.
The Minos Moka Pot Espresso Maker has no small parts that might get lost or broken, so that's something you don't have to worry about.
It can make up to six cups of espresso in one brewing. In less than five minutes, you can enjoy an exquisite cup of coffee.
But it's not all perfect…
If you're using a gas stove, know that – probably – you'll only be able to use the smallest stove top.
The base on the Minos Moka Pot Espresso Maker is pretty small, so it won't fit on larger stove tops.
Furthermore…
Compared to some other stovetops, this one has a pretty narrow top opening. This makes it very hard to clean because you cannot access the bottom directly with your hand. You'll need a brush, because it's pretty inaccessible.
And finally…
There's the handle.
It looks really nice and neat, and it accompanies the overall design well, but only half of it is heat-protected.
Why?
We're unsure.
If you look at it closely, you'll notice there's a metal layer from the outside. This part of the handle can heat up during preparation and you might burn your hands if you're not careful.
But one gets used to to the process.
Features
Made of stainless steel
Performs well on all gas stoves
Quality silicon handle
Narrow rim at the top (prevents spillage)