In the market for something powerful that can lop off a large limb in seconds or take the tops of posts? The Milwaukee 6523-21 can handle both those tasks with ease and but is the only saw on our list with a handle capable of rotating 360-degrees.
The draw for this sawzall is the handle, so that's what we're going to touch on first. It has 360 degrees of rotation and locks at 45-degree increments along the way. It's capable of continuous rotation, so you don't have to start and reset, and the trigger stays active as well.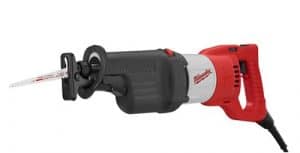 But is it complicated?
While it may have taken an engineer to pull of this feat, you don't have to be one to use Milwaukee 360 Super Sawzall. We love tools that are easy to use, and the 6523-21 is no exception. The stroke length is set to 1-1/4," and the action is smooth with low vibration. The boot takes care of some of that, but the handle isn't exactly the most ergonomic we've come across.
The overmolding on the grip is only in the palm area without wrapping all the way around like the Makita JR3070CT and other top-tier models. It won't wear you out, but you may notice a difference in the grip. On the flip side, we love the placement of the speed dial which is towards the top and easy to access with your thumb.
Whether you're locked in at a 45-degree angle or doing a straight cut, this saw should have enough power for almost everyone. There's a 13-amp motor inside the sturdy housing with a top speed of 3,000 strokes per minute. It has a long 10-foot cord, and the warranty is best in class with 5-years as soon as you register your new sawzall.
There are no blades included with this saw, just a manual and case, which is a disappointment considering its price. While we appreciate a good carrying case, several users found this one a little too cramped for their liking. Those are the only two drawbacks for Milwaukee 6523-21 provided you need a reciprocal saw that rotates 360 degrees.
Features
1-1/4" stroke length
13-amp motor
360-degree handle
Counterbalanced against vibration
Gear protection system