Our top two manual pole saws require you to saw through branches, but his tool from Milliard has an extra trick up its fiberglass sleeves. It can lop or saw thanks to a pruning feature although still has enough height to handle light-duty work around your yard.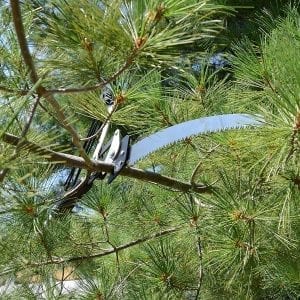 The pruner is the highlight of this pole saw, well that and the price tag. It can't handle large branches, but the 50C carbon steel blade will lop of anything around 1-1/4" in diameter or smaller. That blade is coated with a non-stick substance and works with a dual compound pulley system and a skinny rope.
We couldn't dig up any tech specs on the rope or its length, but it should hold up well as long as you've got a solid not and it doesn't get frayed. The handle is on par with the rope as it's not the best, but gets the job done. Some users found it to be a little small for their liking and found it difficult to wrap the slack around the handle.
The pulley system is easy to use, so as long as the blade is sharp, you won't need much strength. We're pleased to say the saw is solid as well with a slight curve to the 14-inch blade. Each tooth is 3-sided and sharpened to remove the maximum amount of material with each stroke. Its 1.2mm thick, made from SK5 carbon steel and coated just like the pole saw pruning blades.
You'll get a total reach of 16 feet from Milliard's pole saw pruner and cutter combo. When not in use, you can collapse it down to around 6 feet, so it's far from massive. Unfortunately, what you see is what you get with this one, so there is no scabbard for the pole saw blade or any other extras included with Milliard's clippers.
Milliard's cutter is basic in the feature department, but performs as intended and will cut or lop through a branch in no time. It's a good choice for light to medium-duty use if you need something cheap, just keep the height in mind and the fact it does not have a standard warranty so you'll only have Amazon's guarantee to fall back on.
Features
6 to 16-foot reach
14-inch blade
Dual pulley system