The Milliard Gel Memory Foam Mattress Topper is "like heaven to sleep on." Soft yet firm, it's very comfortable for people with back pain. Several owners state that when this topper allows them to sleep for hours–and get more rest and wake up without aches for the first time in years.
Many users would purchase this topper again for other beds.
Moreover...
Conforming to the shape of a sleeper's body, the topper provides enough support to prevent the person from sinking into or flattening it out.
One user describes the Milliard Gel Memory Foam Mattress Topper with its two-inch thickness as maintaining "a semblance of a bed, not a huge pillow pile."
Were all the reviews good?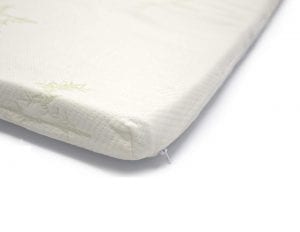 Well, some find the topper a bit too soft and need a firmer topper for more back and neck support. One consumer described it as "good for kids and lighter people."
But...
The Milliard Gel Memory Foam Mattress Topper is soft and thick enough for the two stomach sleepers and twelve side sleepers we encountered in our research.
How cool is that?
The topper has an open-cell structure and gel-infused beads for keeping sleepers cool.
Many users find the topper cool for sleeping (especially older people and sweaty kids) or at least "not hot."
On the other hand, some owners feel the topper becomes warm and even hot as they sleep.
One person observes that as the topper warms up, it loses all resistance to body weight and, therefore, support. The gel also makes the topper a bit heavy to move.
The Milliard Gel Memory Foam Mattress Topper's durability seems to be about one year. We read feedback of permanent indentations developing after about five months of use. Owners report that while this topper really helps relieve pressure points during the first few weeks or months of use, it becomes softer, flatter, and less comfortable as time goes on.
It's the little things…
People like the included washable bamboo cover with little nubs or stay-put dots on the bottom side to prevent the topper from moving around on the bed.
Does that actually work?
This non-slip underside worked for the majority of users and all our experts. Although a few consumers state the topper still moves a little, requiring readjustments.
The Milliard Gel Memory Foam Mattress Topper is available in twin, full, queen, and king sizes. We encountered numerous complaints of the king size being slightly narrow and short for a standard king bed.
One person speculates perhaps the topper is cut a bit small compared to the mattress in order to give the foam a little room to expand when a person lies on it. In any case, the small size wasn't a deal breaker for many people who enjoy the topper's benefits.
What do you think?
Speaking of expanding, this topper requires three to four days to expand fully as well as to air its new-mattress smell. Some people detected no odor while others needed up to a week for the smell to off-gas.
And so...
Advertised as hypoallergenic, the Milliard Gel Memory Foam Mattress Topper pleases many, but a few were bothered by the odor and developed a migraine or mild allergic reactions to it.
In order to guard your investment, cover the Milliard Gel Memory Foam Mattress Topper with a SafeRest Premium Hypoallergenic Waterproof Mattress Protector.
Features
Dimensions and weight: (twin) 73" x 37", 23 pounds; (full) 73" x 52", 29 pounds; (queen) 78" x 58", 23 pounds; (king) 78" x 74", 29 pounds
2" thick gel-infused memory foam
Bamboo cover
Return policy: All unused items may be returned within 30 days after purchase