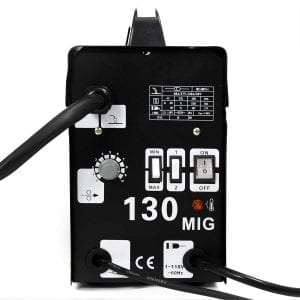 The MIG Series Gas-Less is a flux core wire welder that's excellent to keep around the house.
Especially after considering the price.
It weighs only 36 pounds, and once you learn how to handle this machine properly, you can make some pretty decent welds. Make sure to practice and buy all the consumables you need, including an auto-dimming helmet and nozzle gel for the splatter, considering this is a flux core welder only.
We were able to weld ¾" of steel easily using this little machine, but it's not the best you'll find out there. It lacks versatility since it can only run on 115V and weld with flux core only.
However, we think it's the perfect fit for anyone who wants to try their hand at MIG welding or even for professionals who can produce neat results with flux core.
Features
Rated power input:115 V / 60 Hz single phase welding; current:50-120 AMP
Duty Cycle: 10% at 105AMP 35% at 60 AMP Max open voltage: 37V
Adjustable feed speed control torch with full on /off
Wire capacity: 0.030" - 0.035"
Includes thermal safety protection