Many guinea pig owners use the XL-size cage of the MidWest Homes for Pets Wabbit Deluxe Rabbit Home Kit to house their one, two, and sometimes three (but that might be pushing it) guinea pigs.
A good size cage to have in an apartment or small house, this unit offers room for guinea pigs to run, a cave-like place to hide, and a second level to climb onto and eat.
A little steep?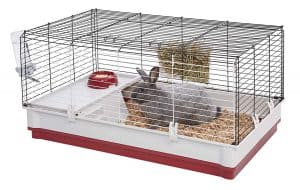 In fact, some guinea pigs skip the nearly perpendicular and "useless" stairs and hop onto the platform.
Reviewers like that a full-width side door opens up the one entire side.
It makes accessing your pet, changing food, and cleaning the cage easy.
Most people describe set-up as easy (although snapping in the sides can be "tricky") while others find the directions poor. Some pieces didn't fit well together for a few.
Overall, this cage is well-liked but could be stronger. The wire seems "flimsy" to some.
Nonetheless, you can expand the cage with an extension piece as well as a strong wood hutch.
Features
Standard cage dimensions: 23.62" wide x 39.5" long x 19.75" high
Standard cage base: 5.5" deep
XL cage dimensions: 23.62" wide x 47.16" long x 19.68" high
XL cage base: 8.5" deep
XL cage weight: 16 pounds
Mesh spacing: 1"
Includes removable hay feeder, water bottle, and feeding bowl.
One-year warranty for cage and parts