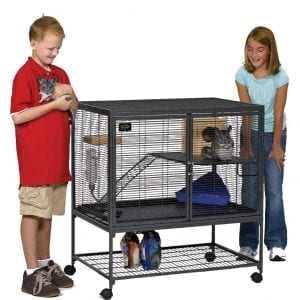 Okay, so this cage is basically a hamster mansion.
Or maybe a castle.
Or, okay, like a mansion plus fancy garden grounds. Like with shrubbery trimmed into animal shapes and statues and a giant fountain. That sort of thing.
The point is, it's really, really big.
The Midwest Critter Nation Double Unit with Stand is made to comfortably house rats, ferrets, and chinchillas, so you can bet it's going to be perfect for your Syrian hamster.
Yes, specifically for a Syrian hamster.
Why's that?
Because the space between the cage bars here is wide enough that a dwarf hamster would easily escape right through them.
So unless you want hamster heartbreak on your hands, definitely don't get this cage for the little guys. We'd even caution against using it for a baby Syrian hamster, just in case.
For a fully-grown Syrian, though, it'll be the home of their dreams.
This cage is made of solid, sturdy metal, with a ramp that leads up to a secure second level.
We really can't stress enough how wowed we were by the size of this thing. There's so much room that you could stuff it full of accessories and fit a giant wheel for even the biggest ham around, and you'd still have plenty of floorspace.
We also really liked that it's elevated on a stand, so you have all this space below the cage to keep food, treats, and bedding. Everything neat and tidy in one spot.
The Midwest Critter Nation Double Unit with Stand comes with a one-year manufacturer's warranty for any defects.
Features:
Wheeled base so you can easily move it if you need to
Plenty of space below the cage for storage
Double doors for easy access and cleaning
Dimensions: 36 x 25 x 38.5 inches
Weight: 59 pounds