Merrell is a company known and loved for their comfortable and practical shoes. And the Dassie Buckle Slip-On is no exception. If you're looking for a comfortable semi-professional shoe that won't leave your feet sore after standing all day, this is a good choice.
The Merrell Dassie Buckle Slip-On is a leather shoe with an interesting look. The asymmetric overlays make it look fun, and the buckled vamp strap adds to its appearance, while also providing flexibility and a way to make the shoe fit perfectly.
Here's where it gets good: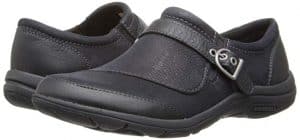 Our research showed that, although this is a high-quality and durable shoe, it's amazingly lightweight. Most people are surprised at the weight, given that the shoe features a padded collar and tongue, as well as great insoles and outsoles.
The M-select FRESH insole helps your feet stay healthy. The Dassie Buckle Slip-On shoes are breathable and comfortable, partly due to the full grain and nubuck leather upper. The M-select GRIP outsole provides good traction and makes these shoes suitable for every man-made terrain. These shoes can also be worn in both wet and dry conditions.
But that's not all:
When it comes to cushioning, the Dassie Buckle Slip-On shoes are equipped with great features. They have an EVA midsole for cushioning, as well as a shock-absorbent air cushion in the heel. All this makes sure that these shoes don't disappoint even the most sensitive feet.
The only real downside to the Dassie Buckle Slip-On is it doesn't provide very good arch support. Many users with chronic foot issues have reported it doesn't give them the support they need, so they have to get an additional insole to solve the problem.
Luckily:
Insoles for the Dassie Buckle Slip-On are not hard to come by. WERNIES Comfort Neutral Arch  are great if you need more arch support, and LLSOARSS Orthotic Insoles are great if you have flat feet – they give excellent arch support for plantar fasciitis.
Features:
Leather
Casual style
Lightweight
Asymmetric overlays
Leather upper
Cushioned footbed
Buckled vamp strap
Elastic goring at tongue
Padded collar
Padded tongue
Merrell air cushion
M-select FRESH insole
M-Select GRIP traction outsole
Slip-resistant