We admire the solid pine wood construction of the Mission Staircase Bunk Bed. Add the rich brown stain with a hint of red as well as the classic mission style, and you have yourself quite a beautiful bunk bed.
Is this more than just a pretty face?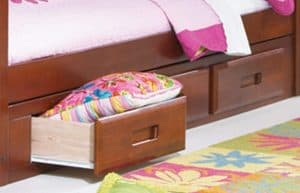 What's more, the Mission Staircase Bunk Bed is sturdy, well built, and multifunctional. Parents love that it provides plenty of storage space, with three drawers under the lower bed, a four-drawer chest built into the side of the stairs, and even a magazine rack for holding reading materials for the lower bunk's occupant. Clothes and other stuff can be stashed out of the way.
Try a different way:
Users thinking about safety and comfort find the Mission Staircase Bunk Bed's built-in steps to be a great alternative to a ladder. The stairs make climbing up to the upper level easy for both kids and adults … and of course provides the space to accommodate the handy four-drawer chest.
A mixed bag
In our research, we discovered conflicting reviews of this unit's assembly process. Some users found assembly quick (under one hour) and simple (needing only one person) while others grumbled assembly took much longer (three to four hours) and needed at least two people, especially for putting on the top bunk. Nearly everyone advises using power tools, if available, to help with set-up. The good news is the under-bed drawers come fully assembled.
The Mission Staircase Bunk Bed's comes with a one-year warranty and manual. For a visual description, watch this video.
Features
Solid pine wood with smooth lacquer finish
Dimensions: 98.5" x 57" x 63"
Includes four stair drawers, three under-bed drawers, and magazine rack
Under-bed drawer dimensions: 18.5" x 15.5" x 6"