If you're looking for the cheapest choice for a full-sized kit (that won't fall apart when you start playing it), this drum set from Cecilio is your answer. It's the whole package for someone just starting out, with stands and pedals sized to fit all the drums and a stool and sticks for the player.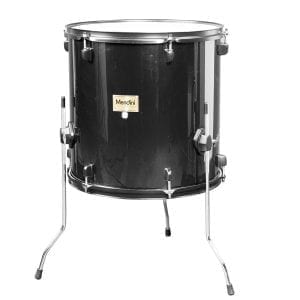 The shells of all the drums are made of a cross-laminated poplar. This is not only a durable and stable wood, it also gives you a warmer and fuller tone, especially when it comes to the kick drum and floor tom. The hoops and lugs are all triple-flanged and powder coated for maximum sound quality and longevity.
They won't win the best sound award, but...
Every detail of this kit is designed with a beginner in mind. It's easy to assemble, with set-up instructions included. The stool and stands are all adjustable, too, so you can make sure you're comfortable when you play. These drums might not be the best-sounding options on the list, but for learning and practicing you can't beat the build or price.
Specs at a glance:
Shell material: Cross-laminated poplar
Kick drum: 22" X 16"
Snare: 14" X  5½"
Toms: 16" X 16" floor tom; 12" X 8" and 13" X 9" mounted toms
Cymbals: 14½" hi-hat, 16" crash
Whole kit weight: 82.5 pounds
Color options: Black, blue, green, silver, white, wine red, bright red