This powerful meat grinder is suitable for any kitchen or supermarket. Although it's small in size and quite lightweight, it's extremely powerful. The motor has 2.6 horsepower, so you can be sure it's powerful enough to efficiently grind your food.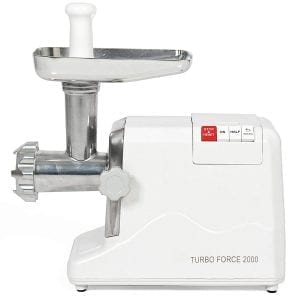 With its stainless steel construction, aluminum feeding hopper, and steel internal gears, you can be sure this grinder is a high-quality and durable choice. It's also extremely easy to assemble, disassemble, and clean. Unfortunately, it's not recommended to wash any of the parts in a dishwasher.
This grinder has two grinding speeds and a reverse option, so it can be used to efficiently grind all types of meat, as well as fish and vegetables. It also includes three cutting plates so you can cut your food into fine, medium, and coarse chunks. Our research showed that even beginner users are able to easily control and use this unit.
Also:
If you're looking to make kibbeh, this grinder comes with the appropriate attachment. The package also includes a food stuffer. However, one of the downsides of this unit is that it doesn't include other add-ons, such as a sausage attachment. Many users have reported that buying additional attachments can be difficult.
Another downside to this grinder is that many users report it to be quite loud. Our research showed that it can be quite louder than some other models.
Features:
Weight: 5.5 pounds
2000 watts lock power
6 HP motor
Stainless steel construction
Aluminum feeding hopper
Steel internal gears
Reverse option
2 speed options
Comes with 3 cutting blades
Includes kibbeh attachment and food stuffer