Owners use words like "magnificent", "heirloom quality", "visually stunning" and "beautiful" to describe the Mauviel M'heritage M250B 9-piece 2.5mm Copper Cookware Set.
This sleek cookware constructed of a stainless steel interior and a smooth copper exterior earns positive marks not only for appearance, but also for functionality.
Why?
First, the 18/10 stainless steel interior is nonreactive, preserves foods' tastes and nutrition, and is easy to clean.
Second, the copper bottom heats up ingredients quickly and evenly but creates none of the issues with sticking or burning made against some of the other models we tested.
But, that's only if used over a low-to-medium fire.
Third, the sturdy and heavy construction is great for confidence in cooking. Some users like the heft of the Mauviel M'heritage Copper Cookware Set, while others think the pots and pans are a bit too heavy.
A few caveats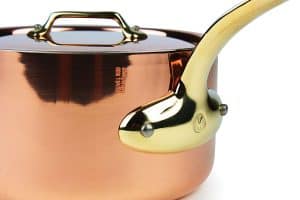 Speaking of heavy, a couple of reviewers feel the lids are a bit light and cheap.
Especially compared to the solid pot and pan bodies.
At least two people accidentally dropped the lids on their kitchen floors and dented or bent them.
Yikes!
Also, heat transfers to the "attractive" bronze handles, so be sure to have pot holders handy.
Luckily, it's not all bad. There are many good things about these pots and pans as well.
You might not believe it at first, but…
Nearly every consumer we spoke with praises this set.
One reviewer encourages readers to "spoil yourself" with the Mauviel M'heritage Copper Cookware Set.
If you want to some visual proof to attest to that…
Take a peek at this cookware in action!
Features
Includes 1.9-quart saucepan with lid, 2.7-quart saucepan with lid, 3.2-quart sauté pan with lid, 6.4-quart stock pot with lid, and 10" inch skillet
2.5mm thick copper
90% copper and 10% stainless steel (18/10)
Bronze handles
Oven safe
Compatible with gas, electric, and halogen stovetops
Can be used on induction stovetops with Mauviel's Interface Disc for Induction Cooking (sold separately)
Made in France
Lifetime warranty