"Top of the line," "finest cookware made", "the very, very best", "nothing can compare", and "total bliss" are some praises we found that describe the Matfer 8-Piece Bourgeat Copper Cookware Set.
Longtime users (including a few who've owned this set for more than a decade) recommend this cookware line over other high-end brands. They love its simple and elegant design, fine craftsmanship, and sturdiness.
What's even better than that?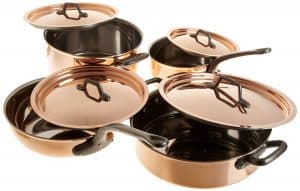 One reviewer notes that this great-looking cookware cooks even better!
Heating up quickly and evenly, the Matfer 8-Piece Bourgeat Copper Cookware Set is like a set of professional cooking tools that actually helps people improve their culinary skills.
However, because the copper reacts immediately to any temperature input, you need to pay close attention to what's cooking in the pan.
Another person compared cooking with Bourgeat cookware to racing a Ferrari.
But here's the best part:
This set also is easy to wash and polish.
Guess what?
The only criticism we could find about the Matfer Copper Cookware Set is the pans are a bit heavy.
But that's more of a matter of personal preference.
Learn about this set's warranty and care instructions here.
Features
Includes casserole with lid, saucepan with lid, flared saute pan with lid, and heavy sauté pan with lid
Interior layer of .1mm-thick 18/10 polished stainless steel
Exterior layer of smooth 2.5mm-thick copper
Cast iron handle
Compatible with all types of stoves except induction stoves
Total weight: 38 pounds
Warranty from date of purchase