Marvel's Guardians of The Galaxy is a huge hit, and children everywhere are dying for toys they recognize from the movie.
Whether the seven-year-old boy you know is a super fan or just likes dart guns, this is an awesome gift.
Here's why.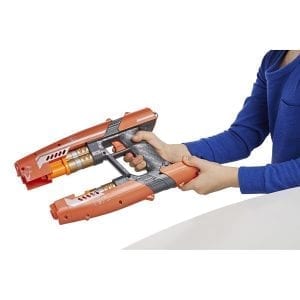 The Star-Lord Quad Blaster is an awesome toy gun in its own right.
It's made from safe, durable materials. This durability has also been tested pretty extensively by manufacturers.
The toy gun holds four darts in four barrels. It can shoot these darts up to twenty-five feet.
If you're worried this gun doesn't carry the Nerf brand name, don't be. This product is made in the very same factories by the very same manufacturers as Nerf guns.
This gun also has the added feature of choosing how many darts you shoot at once. You have the option to fire one or two darts, depending on how serious the situation is.
As far as realism, this really does look like Star-Lord's Weapon. Any little boy you buy this for is going to have an awesome time role playing.
But you should know…
The blaster only comes with four darts. So you'll need to pick up darts before you reload every single time. That can mean as little as two shots before you need to a time-out.
Alternatively, you can purchase thirty extras here.
While this does have several features, it is a relatively standard nerf gun. So it may wind up lost in the abyss of other nerf guns. This might not be what you're looking for if you want something they'll have and play with for year and years.
No warranty information was available on this product, so you'll be in the dark with regard to that until the product arrives.
Features
Shoots 25 feet
Looks like Star-Lord's weapon
Tested for safety and durability
Two rates of fire