Don't have any outlets free? No problem. The Marcy ME-704 Regenerating Magnetic Elliptical does just what the name suggests: it regenerates power as you pedal, so you never need to worry about finding a spot to plug it in.
But that's far from the best feature.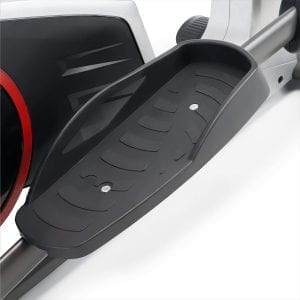 This smooth-running elliptical has a total of 23 different training programs for you to try out, with a whopping 24 different levels of tension. If you love to change up your workout routine on a whim, then this one's for you!
Plus, the ergonomic and well-padded handlebars help you work your upper and lower body at the same time for a more balanced experience.
While the Marcy ME-704 is pretty reasonably sized for an apartment or small living space, we do want to note that it's not quite as compact as some of the other machines on our list.
Luckily, it folds up easily enough and comes with wheels so that you can just roll it out of the way whenever you need to clear up some space for that next wild party.
Pricewise, the quiet magnetic resistance and impressive array of digital features makes the Marcy ME-704 a tad more expensive than some of the options on our list, but we think it's a great deal for the amount of options and functionality you get.
Weight & Dimensions: 44.4 x 22.6 x 15.2 inches; 97 pounds
Weight capacity: 300 pounds
Stride length: 16 inches
Resistance: Magnetic resistance provides 24 different levels of tension
This one comes with a 2-year warranty and user manual.
Features:
Ergonomic handlebars for better form and comfort
Over 20 levels of resistance
Comes with wheels for easy transport
23 training programs