Makita makes some of the best air-driven tools on the market along with the equipment that powers them.
When it comes to compressors you can toss in the truck or store under a bench; the Makita MAC700 is an option that should be very high on your list.
The MAC700 lives up to its namesake as it's a "Big Bore" compressor that tips the scales at 52 lbs. It's still portable, however, and even sports a handle which makes lugging it around easier.
This powerful compressor has a 2.0 HP motor and sturdy cast iron pump rated to run at 1,730 RPM. That will improve the lifespan of this tool while keeping things relatively quiet at around 80 dBA. You can find out more about the motor and tech specs in the user manual.
Don't believe us?
See for yourself…
Another highlight of the motor is the fact it's oiled, so it will run cooler and last longer than oil-less pumps.
The oil sight glass takes care of the guesswork when it's time to check the levels – something many of us forget to do.
We also like the low AMP draw on this model which cuts down on the chance of accidentally tripping a breaker.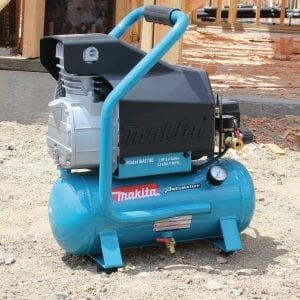 When it comes to performance…
The MAC700 Big Bore is rated at 1.7HP running with a maximum PSI of 130.
The company claims it can deliver 3.3 CFM at 90 PSI or 3.8 CFM at 30 PSI.
It may get a little warm with use like any other compressor, but the design and features like copper finned discharge tubing help keep heat and moisture in check.
This hot dog style compressor is an excellent choice for homeowners and professionals alike. It won't hang with twin-stacked compressors or wheelbarrow models on the job site, but it's hard to argue with what it offers up for the price.
The compressor comes with a 1-year factory warranty although there's not much included in the box except for oil and a 1/4" coupler. If you do happen to need a hose, we highly recommend checking this one out.
Features
130 Max PSI
2.6-gallon tank
Efficient Big Bore cylinder & piston
Oil sight glass
Roll-bar handle