Our top choice from Makita is a beastly little compressor and among the best small compressors on the market today. The Makita MAC2400 is a twin-stack compressor built for the road, and an outstanding option when you need peak performance and reliability.
This compressor is 4.2-gallon twin-stack tank system with a "sustained" pressure of 130 PSI. On the CFM front, you can expect 4.8 CFM at 40 PSI or 4.2 CFM at 90 PSI. You can run two nailers with ease from the Makita MAC2400.
And it's an oil-lubricated pump unlike other options on our list.
The 4-pole motor is top-tier as well at 2.5 HP and produces 2.1 HP while running.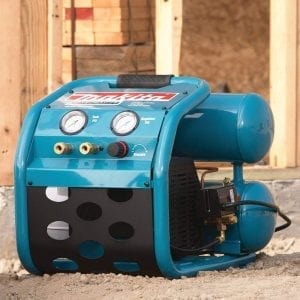 But that's not all…
This compressor has three gauges; two in the front for pressure and one on the side to check the oil level.
The quick connect couplers are on the front and easy to access, but the placement of all the components is a bit odd considering the power switch is on the opposite side of the sight glass.
It's not a deal breaker by any means, but not necessarily convenient either.
While that's a drag, we love the massive air filter and the discharge tubing.
Its copper finned to help with heat dissipation which means less water in the tank.
Despite its rugged exterior and roll cage design, the Makita MAC2400 is quiet at 79 dBA.
It's also capable of firing grapes at a high rate of speed as you can see in the video below…
Last but not least is the build quality.
And if you're familiar with Makita's tools, you already know what to expect.
The MAC2400 is constructed from high-quality components with a roll cage that protects the more fragile parts.
The gauge panel is metal, not plastic, and even the powder coating is top of the line.
It has a 1-year warranty to go along with a 30-day guarantee.
But truth be told…
This machine will last a decade if you keep it properly maintained.
Compared to other compressors in this class and of this size, the MAC2400 has a reasonable price tag and will definitely deliver when it counts. The fact that it's quieter than other twin-stacks is a bonus, but it's about the only thing you'll get as no accessories are included outside of oil and a few couplers.
If you need to air up tires, soccer balls or want an array of couplers, be sure to check out this handy accessory kit.
Features
Copper finned discharge tubing
Cast iron cylinder
Industrial air filter
Low amp draw
Roll cage design