Makita has always been a fan favorite in the tool world, and we're big fans of the LS1221. It's a simple 12-inch compound miter saw that won't break the bank but is powerful and efficient with all the standard features.
This 12-inch compound miter saw is in the lightweight class at 37 pounds. It has a solid aluminum base, and we'll admit, it looks a little cheap design-wise. Looks can be deceiving however as it has a 15 amp direct drive motor capable of 4,000 RPMs. That's slightly faster than other models this size, and you'll feel it when you first pull the trigger.
On that note…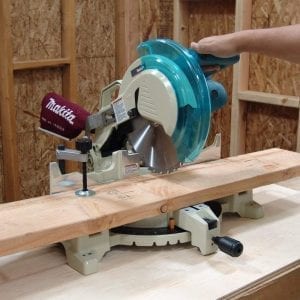 The Makita LS1221 is a breeze to use and comfortable thanks to the large D-handle. There's a lock on the outside of the handle, and the trigger runs the full length. It's comfy whether you are right or left-handed which makes it perfect for those long days on the job. The build is fairly basic, but it does have an electric brake and extensions that slide out from the sides.
The cutting capacity of this saw is comparable to other 12-inchers with a few exceptions. It can cut stock measuring 3-7/8" x 6" at a 90-degree angle and take on 5.5-inch crown molding thanks to a pivoting fence measuring 4.5-inches tall. The positive stops are set at 0, 15, 22.5, 31.6, and 45-degrees with nine settings from right to left.
One perk of this saw that isn't obvious from the photos is the included blade. Remember how we said they are usually pretty mediocre? Well, this one isn't as Makita included micro-polished 40 tooth blade which is far from cheap. We also recommend the Hitachi Fine Finish VPR blade which has 80 teeth if you're looking for a high-quality solution for hardwoods or need a fine finish.
The Makita LS1221 is a simple no frills saw that gets the job done. It's an excellent choice for homeowners in need of an affordable compound miter saw or for the job site.  It comes with a 1-year warranty, owner's manual, vise, two extension wings, wrench, dust bag, and that 40T blade.
Features
15 amp direct drive motor
4 ½" pivoting fence
Nine miter stops left to right
37 pounds