If you didn't catch on by now, tabletop builds are not the most durable choice. While that may be true, the best way to keep a tabletop version sturdy is with pedestal legs - just like the ones Mainstreet Classics boasts.
Where does this product excel?
The first thing you'll notice is the interesting design. Not the overall table design, but rather the playing surface markings. There's plenty of those, and they're curved, giving this product a futuristic look.
In terms of construction…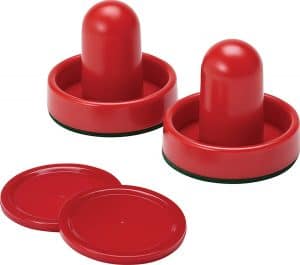 … The Mainstreet Classics table is as structurally sound as you can get in this category. The pedestal support is great, but it's not the only build benefit.
You also get a pretty strong motor, that is plugged in, which means you're covered in terms of airflow stability.
Extra features?
There's not plenty of those. You have a regular manual scoring system, and although it's basic, its placement on the rink wall is unique, giving this product a unique look.
So where does this table fall short?
Besides the negligible marketing images, that look like they were shot in the '90s, there are also other downsides to mention.
First of all, as far as we can tell, the warranty on this product only covers material defects, not workmanship problems.
On top of that,
Customer support is basically inexistent, and we've read the reviews of a lot of customers that had problems and couldn't reach out to anyone.
Features:
42-inch tabletop air hockey table
Plug-in motor
Manual scoring