If you're usually in a hurry, you may want to take a look at the Magma A10 grill, since the fold away legs, relatively compact design, and the nice polished steel design make up quite the product.
The Magma Infrared Grill has a glass window to observe your meat being cooked, perfect for accurate cooking, but also nice to make you yearn for that steak even more. The dynamic combustion system is also a gem, since it spreads the heat evenly, making sure you have a clean meal.
Last but not least, infrared rays cook your meat with gas and the Magma A10 comes equipped with a regular 1 lb propane tank.
But it gets better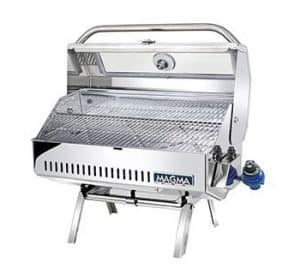 Experts that had a say in our process generally gave mixed reviews of the A10, which was curious since our focus group loved it.
The reason most chefs steer away from this grill is that the thermometer has no degrees on it, just colors.
Sound benign?
Well, of course regular folk don't care about a minor detail like this, but for an aspiring Michelin star chef such things matter a lot, because they offer a small edge to make that perfect meal.
If, however, you're not planning to get competitive with your cooking (which is probably the case, since neither our team, nor the focus group cared about this) this Magma product is surely a choice to consider, since the general features are attractive.
One last thing we discovered is that, although directly placing your food on the grill works perfectly, using pans or pot is sometimes difficult due to the size and combustion system, which were built with a direct contact between future steak and grid in mind.
Features
Glass window to observe your meat being cooked
Dynamic combustion system
Supplements the infrared light with gas.
1 lbs propane tank