The Magellan eXplorist 310 is an older GPS tracker, but a good one and well deserving of a spot on our list.
While a few things may seem a little outdated, this one is geared towards hunters and has features you won't find elsewhere.
It's evident from the first time you set eyes on the eXplorist 310 that it's different from the rest.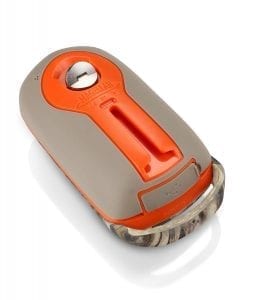 The outer shell is rugged but camouflaged to better blend in with your gear and wooded environments.  The overall design is simple with an area at on the bottom for hanging and four buttons on the front.
There is a joystick in the middle which allows you pan through maps, and most consumers found it simple to use.
On the downside, some users found the button placement to be a bit too close together which can hamper navigation.
There's always a chance for errant button presses as well due to the design although this tracker handles that better than the rest. Unfortunately, there is one area where this tracker is a bit lacking.
If you need GLONASS support…
You won't find it on the Magellan eXplorist 310 as has SiRFstar II GPS receiver, so it's not as "global" as other GPS trackers.
It still has WAAS, EGNOS and MSAS capabilities and the accuracy is listed at 3 – 5 meters.
Just remember while the preloaded maps may be global, its capabilities aren't quite up to par.
As for the hunting features, you'll get specific waypoints with markers for things like scat, bedding areas, and blood trails. You'll also never have to worry about going out of bounds if you're in the U.S. or Canada.
It has hunting boundary information for 40 states along with provinces up north. Fines will be a thing of the past, and the hunting calendar helps keep you within legal limits as well.
There aren't many tech specs for the 310H aside from the display which clocks in at 2.2-inches diagonally.
It's color with a resolution of 240 x 320 and uses transflective tech to make it easy to read in sunlight. It doesn't draw much power, so you can expect around 18 hours of power life from two AA batteries.
The Magellan eXplorist 310 is easy to use and certainly won't break the bank.
While it would be nice to have faster hardware under the hood, it performs as expected. If you want something simple that's set up specifically for hunters and don't need touchscreens or highly detailed maps; this one may be just for you.
This tracker comes with a 1-year warranty, and you can check out the owner's manual online if you'd like to get a better idea of what the 310H brings to the table.
Features
Hunting Alerts
IPX7 certification
Preloaded base map
Breadcrumbs