The main complaint against all-in-one kits is the quality of the cymbals.
Until now that is.
For the Accent 5-drum set, Ludwig has partnered with the cymbal giant Zildjian to bring you a whole package you'll actually want to play.
And when we say all-in-one, we really mean it.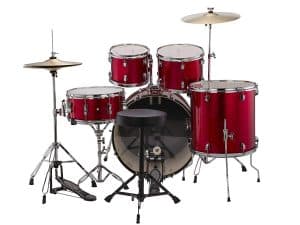 You not only get the drums, cymbals, and hardware; the box also includes two different styles of sticks, a stick bag, a cymbal bag, a stool, drum and cymbal cleaning supplies, and a book of rudiments. While the price tag on this kit is still on the high side for a beginner, it's the best value you'll find for a complete stage-worthy kit.
The kick drum and floor tom in this set are on the smaller side. This gives them a brighter, tighter tone and makes them easier to transport and play, especially for beginners or younger players. While they might not be the best option for heavier genres like metal, for most players they have the durability and sound quality to serve you well in any situation.
Specs at a glance:
Shell material: 9-ply poplar
Kick drum: 16" X 20"
Snare: 14" X 5"
Toms: 14" X 14" floor tom; 8" X 10" and 8" X 12" mounted toms
Cymbals: 13" ZBT hi-hat, 14" crash, 18" ZBT ride
Whole kit weight: 89 pounds
Color options: White, wine red sparkle