Made by renowned dance footwear manufacturer, Very Fine Dancesport Shoes, Low Profile Unisex Dance Sneakers are praised by Zumba aficionados for its fine construction. Most users love the soles have just enough grip to prevent slips as well as two pivot points for twists and pirouettes. One dancer comments her knees no longer hurt after dance class because the shoes pivot so smoothly and readily. A few people wish, however, the Low Profile Unisex Dance Sneakers would slide a little better and have less traction.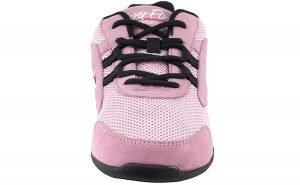 But wait there's more,
Speaking of soles, Low Profile Unisex Dance Sneakers have split soles to provide excellent toe-pointing flexibility demanded by Zumba (and jazz) choreography. Dancers also note the shoes are lightweight with breathable, highly flexible uppers.
Mixed opinions …
Low Profile Unisex Dance Sneakers provide ample comfort and support for most people. One dancer notes, however, that these shoes don't offer enough bottom or side support, leading her feet to roll and hurt after an hour of class. Also, while some users found the shoes to be true to size, a few others suggest ordering up a half size or one whole size. In any case, the manufacturer recommends women order their street size and men order one-and-a-half sizes larger.
Pretty in pink!
The one aspect almost everyone agrees upon is the shoe's sleek look. Female dancers love the cute pink color, while male dancers can choose from black, red, or white colors if they wish. Hey–the shoe is unisex, so anyone can wear whatever hue her or his heart desires!
Features
Synthetic mesh and suede upper
Air cushion heel
Split Polyurethane sole
Pivot points under ball of foot and heel
Comes with carrying bag and shoe freshener