If you need a set of cues without breaking the bank, you'll be able to find these for an absurdly good deal.
They are of sufficient quality that only top level players would notice a difference, as well.
Let's take a look.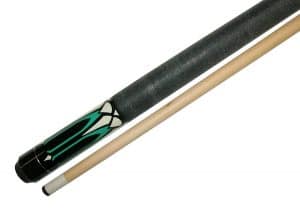 These cues come in a set of four. In this set you'll receive one 18, 19, 20, and 21 ounce cue. You can choose between seven color schemes.
They are two-piece and 58 inches with a steel joint.
The tip is 13 mm, so you don't want to try to practice english with these cues. The tip was of medium hardness, however we could not identify the specific tip.
We liked that these reasonably priced cues where still made of Canadian maple.
The cues look nice and have an irish linen wrap.
But be aware.
Some cues have shipped with poor manufacturing standards. These cues are also not covered by warranty.
Features
Two-piece construction
Steel joint
Irish linen wrap