This Hungarian style recurve bow from Longbowmaker is one of the more unique bows we've come across. It's in the traditional style, and while it was initially designed to be used on horseback, it will work just as well on foot in your backyard.
Whereas most of our recurve bows clock in at 60-inches, this one is 57-inches, so it's more manageable in the woods or on a horse if you really plan to turn back the clock. While we don't advise putting together your own horde, you'll be pleasantly surprised by how the Flagella recurve bow performs.
We couldn't dig up any details on the types of wood used in this bow aside from Beech. It's not 100% wood and has fiberglass in the build even if it's difficult to tell from the wraps.
Except for a few inches at the tips, the entire bow is wrapped in black leather. There's twine in several areas around the riser and ends of the limbs although that and the design may be an issue for some.
Think ahead…
Have you ever shot this style of bow before?
If so, you probably wore a glove or leather arm guard as there is no arrow shelf. That means you'll need feather arrows as plastic fletching will rip your fingers to shreds. Don't try and be tough, always be smart when using any style of bow and arrow.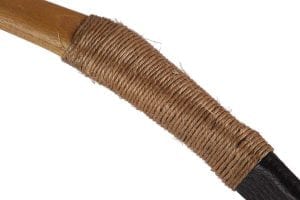 While the twine looks good and adds an extra layer of authenticity to the bow, it can also unravel. Pay close attention to the build quality out of the box with this one.
The Longbowmaker Flagella Horsebow is a budget-friendly alternative to traditional Hungarian bow, and one consumers have been enjoying for several years.
It's ambidextrous with a draw weight range of 30 to 60 pounds, so almost everyone will be able to handle this bow. Just remember to have hand protection, and you'll want a bow stringer as well.
Features
Draw Length of 28 to 33-inches
Leather-wrapped limbs
Handmade