Do you know a little future Monet?
Well, maybe this children's art easel is more their speed.
The Little Partners Tri-Side Art Easel is an awesome option for a more creatively minded kid, especially if they like to have a lot of projects going at once.
Why?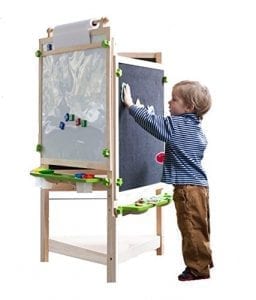 This three sided easel allows them to switch freely back and forth between projects without having to get out a whole new set of supplies. Each side also has multiple options.
There's a two sided flippable blackboard. Another side of the easel has a white magnetic board that also has a paper roller at the top for turning this side into a drawing board.
The third side is a felt board for doing felt art or creating stories.
This is also a great option for anyone with multiple kids since each kid could easily work from a different side of the easel.
It's more durable than you'd think.
It's hard to find a nice study easel, even for adults. So you might think a children's easel would fall right apart.
But in this case you'd be wrong.
This easel is built to withstand damage specifically because it's for kids. In tests the sturdy construction held up well to all kinds of abuse.
There's also a lot included with this product. You'll receive four non-spill paint cups, an eraser, one roll of paper, and a large storage shelf.
The legs for this easel are adjustable to fit any height kid. This also means that this is a product they can continue using as they grow older.
All these great features and activities make this our favorite product with regard to play-life. There's so much to do and endless creative possibilities. In addition, it can be raised to grow with children.
Any downsides?
There are just a few things you should keep in mind.
This is a larger product, which means you'll have a harder time storing it in tight living situations.
It's also probably going to be messy, despite non-spill cups. This is still kids and paint, after all.
You know what kids love?
Warranties. This product has a one year manufacturer's warranty.
Features
Chalkboard
Felt board
Whiteboard
Large paper sheets
Non-spill cups
Storage shelf
Adjustable height