An easy mount, just the right specs, and a cool design.
Sounds good, but will it serve you well enough?
Let's take a look at Linkable's LED Shop Lights-- 48-inch beasts that can brighten your garage.
These LED panels come with a 5000K natural white light, just the right spot according to our research. The 48-inch  panels can output up to 4800 lumens and only consume 40W doing so. That translates to 120 lumens per watt, a great deal according to the experts we've interviewed.
Moreover,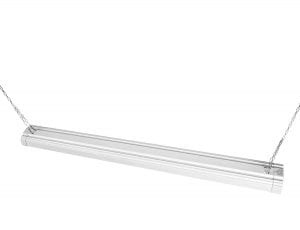 The technology these products use is state of the art LED lighting. You can get them in a pack of 10, or just order one piece for a small change to your garage.
On the downside, the chain links are made from a pretty weak material.
Can you count on Linkable's lamps as a heavy duty garage lighting fixture?
Our tests revealed the aforementioned weak chain links since we were able to break a few after hearing of this disadvantage. To add to the issue, our focus group reported the use of these panels will interfere with AM frequencies, so maybe consider a different product if you want to listen to your radio in the garage.
With that in mind, the experts we've talked to spoke in favor of this product, claiming they're heavy duty, and our focus group was overall satisfied with it - there's no doubt, these are good garage lighting systems.
Features:
5000K natural white light
4800 lumens and
40W consumption
48 inch light that comes alone or in a pack of 10