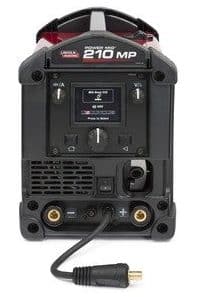 If you're not a professional welder or have never even welded in your life, then go for the Lincoln Electric Power MIG 210. Using this 40-pound machine, all you have to do is plug-and-play! After prepping your joint thoroughly and a bit of practice to get the hang of the gun, even the most clueless of us was able to weld 3/8" steel easily.
For best results…
We noticed you have to clean up the joints thoroughly and set up a proper ground connection, preferably directly on the pieces you are working on.
This little machine is fitted with Touch Start TIG® technology, which enables it to weld up to 5/2" stick electrodes DC TIG. It's suitable even for a small shop that needs to be versatile. In all, it supports stick, TIG, and flux cored welding.
Features
Lightweight and portable design
Dual Voltage Inputs of 120V or
Accessible push-and-turn digital controls and large color display for easy setup
Supports stick, TIG, and flux cored welding
If you purchase the necessary accessories (MIG, TIG, flux core, and stick), this little machine can do wonders.
How's that for versatility?
It comes with a 3-year warranty, but we doubt you're going to need it.
For better performance get an auto-dimming helmet and nozzle gel for cleaning the splatter when using flux core.