Lifetime is one of the most familiar and trusted names in basketball hoops--fixed and portable. It's designed specifically as a "starter" and features components ideal for smaller family members.
Backboard Size
With a 32-inch backboard and fade resistant graphics screen printed with UV protected ink, it's a good size for kids under the age of 13.
Backboard Material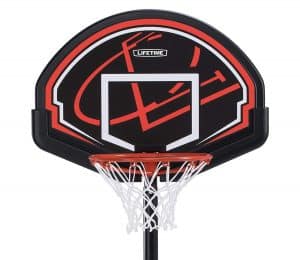 The backboard is made of high-density polyethylene, leaving it virtually unbreakable. With its appealing graphics, it remains attractive for years to come. It uses Lifetime's patented Impact Backboard material and design for years of performance.
Pole
The 2.5-inch powder coated steel pole holds up to even the most vigorous dunks and slams. It's a three-piece design for optimal stability.
Adjustable Hoop
As a hoop designed for kids, it features a telescopic design that allows you to adjust the position of the 32-inch backboard from 5-foot 5-inches to 7-foot 5-inches at six-inch increments for optimal control.
Base Design/Stability
This model features the proprietary Netball Base that includes a ten-gallon portable base filled with sand or water. It's weather resistant and can hold up to any conditions.
Hoop Style
This basketball hoop features the Lifetime Classic rim which is a .625-inch ring of steel that uses .5-inch braces and double compression rings.
Type of Net
This unit is fitted with a standard nylon net designed for years of performance in all weather conditions.
Warranty
This comes with a five-year limited warranty.