You can take things to the professional level with the next option in the 54-inch backboard category. The Lifetime 71524 XL Height Adjustable Portable Basketball System, 54-Inch Shatterproof Backboard is a very impressive model. One we'd rate as the best of the best for those who really want the greatest at home basketball experiences.
Backboard Size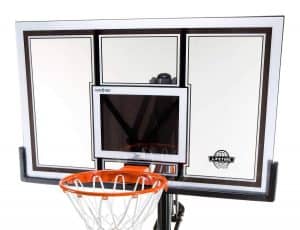 This features a 54-inch backboard that has professional quality, screen printed graphics with UV protected ink to retain color and withstand season after season of outdoor exposure.
Backboard Material
The Lifetime 71524 XL uses Lifetime's shatterproof Makrolon polycarbonate to ensure you get the good looks of glass with the bounce back typically on found in glass backboards.
Pole
This portable hoop features a three-piece, 3.5-inch round pole made of powder-coated steel and treated with a weather resistant finish.
Adjustable Hoop
The pole uses the innovative Power Lift mechanism that can take it from 7-foot 5-inch up to 10-foot using an infinite number of increments. It can all be done with a single hand, and is easy to use for players of any size.
Base Design/Stability
The steel frame is coated for rust and weather resistance. It supports the XL heavy-duty portable base. This can hold up to 35 gallons of water or sand and measures at an impressive 49-inch x 32.7-inch x 9-inch, making it one of the most substantially sized options available.
Hoop Style
This model comes with Lifetime's trademarked Slam-It Pro rims. This is an 18-inch steel rim with a 5/8-inch thickness that uses double compression springs to handle even the most rigorous slam dunks. It always springs gently back into place. No broken backboards or other issues thanks to the arena-style design of this rim's wraparound base.
Type of Net
A high quality, nylon, and all-weather net will give you year after year of performance.
Warranty
This comes with Lifetime's five-year, limited factory warranty.