In a nutshell, the key differences between this Lifetime model with a 44-inch backboard and the one above is its amazing wind resistance and stability. It's been designed to withstand wind speeds of up to 40 MPH without tipping or moving (as long as it has been properly filled with water or sand)
Backboard Size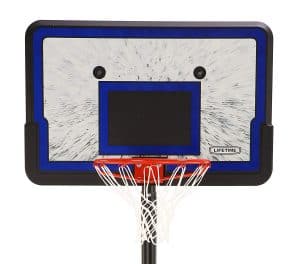 This is one of Lifetime's 44-inch sized backboards and it features fade resistant graphics for years of performance and good looks.
Backboard Material
As one of the Impact Backboards, it uses the company's heavy-duty high-density polyethylene plastic that's UV protected and virtually unbreakable.
Pole
The pole is a three-piece, powder coated steel pole that's 2.75-inches in diameter.
Adjustable Hoop
This pole telescopes in six-inch increments to heights ranging from 7-foot 5-inches to 10-feet.
Base Design/Stability
The base can hold up to 27 gallons of sand or water and is generously sized at 43.2-inches x 30-inches x 6.5-inches. Like the others, it's made of HDPE making it resistant to any sort of damage, including cracking and leaking. It features heavy-duty wheels for easier movement when full.
Hoop Style
Lifetime's trademarked Classic Rim is 18-inches in size and made of solid 5/8-inches steel with ½-inch steel braces.
Type of Net
A color coordinating nylon net will provide many years of weather resistant performance.
Warranty
As with all Lifetime products, this portable basketball hoop comes with a five-year limited warranty.