This is a very good reel, but there are a few things you should know before purchasing.
First off, there have been several reports of poor durability. Some of these models have even malfunctioned with-in the first few uses.
Secondly, we noticed in our reviews that this product has a lot of backlash--which is exactly what you don't want in a reel. This will make it function less well with regard to casting accuracy and feel.
This rod may do a bit of work to mitigate that backlash.
What we did like:
In our reviews, we found that this product did have a very smooth drag.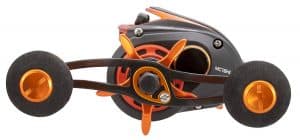 We liked the lightweight graphite frame which should provide some shock absorption and impact resistance. And being lightweight, the graphite frame may allow you to keep your personal casting accuracy a little longer into the day.
This caster has a pretty high 7.5:1 gear ratio. It has a 12/110 monofilament line capacity.
Overall we felt that this caster, although good, was also a bit overpriced.
You can read about this product's one-year warranty, which covers manufacturer defects, in the manual here.
Features
Ten ball bearings
Double anodized U-shape spool
Win Gripp absorbent handle