A lot of air purifiers claim to be compact, but the LV-H132 from Levoit really means it. At just over a foot tall, it's the smallest air purifier you're likely to find, light and compact enough to use on a bedside table. This makes it the perfect choice for dorm rooms and apartments.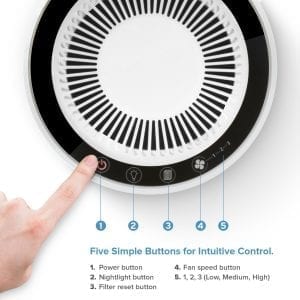 Don't be fooled by its small size, either.
It can provide powerful multi-stage filtration on par with models that are twice the size (and price).
The LV-H132 uses a three-stage filtration system. It starts with a preliminary fine filter, followed by a true HEPA filter, and finishing with an active carbon layer to break down stubborn odors. It also has three different fan speeds, so you can set the level of filtration that you need.
It's an ideal option for a bedroom, not just because of its size and near-silent operation, but also because it includes a night light feature.
As you might guess from the small size of this model, it's not designed to take care of big rooms. If you want to cleanse the air in a space larger than your typical bedroom or home office, you won't be able to do it with the LV-H132 (at least not if you want to do it all at once).
For smaller spaces, though, it's a perfect, unobtrusive way to remove contaminants and eliminate odors. It's also great for regular maintenance of your air, preventing the accumulation of dust, dander, and pollen that can aggravate allergies and lead to congestion.
Since it's not an ionizer—and therefore doesn't emit any ozone—you can breathe easier knowing it's perfectly safe to use in any environment
Features:
Color options: White or black
Power: 60 Hz (120v)
Filters: HEPA (LV-H132-RF)
Filter life: 6 months
Dimensions: 8.5" X 8.5" X 14.5"
Weight: 6.5 pounds
1-Year Warranty