The best air purifier is the one that fits into your life. If you're looking for something that will work in a smaller space, though, you often have to sacrifice some of the performance. That's what we love about the LV-H132 from Levoit. It has a super-compact design that can fit on an end table or desk and still offers the same 3-level filtration as larger designs.
As if that's not enough, the LV-H132 is a pretty exceptional value.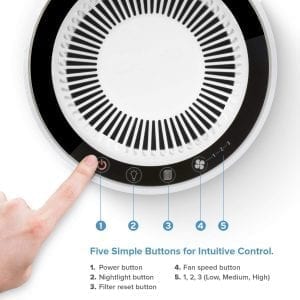 The 2-pack linked to here includes of the filters that you'll need, and sells for right around $150, for the lowest per-unit cost on the list. You can get one for the bedroom and one for the living room, or one for work and one for home, helping you breathe clean air everywhere you go.
In terms of the filtration, there's a particle pre-filter along with a combined true HEPA filter and activated carbon filter for the air to pass through. Changing both filters is an easy process. Just flip the unit over, remove the cover, and drop them in—that's all the more maintenance you'll ever need to do.
The LV-H132 doesn't have the power to clean the air in larger rooms. It maxes out at around 120 square feet—enough for a dorm room or bedroom but probably not enough for larger living areas. Within that space, though, it's very efficient at removing even tiny particles. In our mind, this is the perfect option to keep at your bedside while you're sleeping, or anywhere else you need fresh air but don't have a lot of space.
Features:
8.5" X 14.5" X 8.5"
7 pounds
Coverage area up to 120 ft2
Filters: LV-H132-RF
Filter Life: 6 months
2-Year Warranty