If you need a versatile humidifier that would do everything you need in a humidifier, then you should definitely consider Levoit's Warm and Cool Mist Humidifier. Aside from being one of the most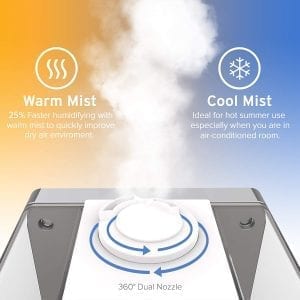 feature-packed devices on this list, it also has a remote control that allows you to control the humidifier from a distance.
On the other hand,
We don't recommend using warm mist humidifiers for babies. The hot water or steam may burn a child if they get too close. In any case, it's great to know that you can use it as a warm mist humidifier when you need to.
See the Levoit's warm and cool humidifier in action:
Features
Remote control access
Touch controls
Built-in humidity sensor
6L water tank capacity