Every little boy loves legos and action figures.
With this product they get both!
This toy has a lot of features that will make a little more sense to the kid that you buy them for then to you. For instance, Stormer 3.0 here has rhino fists and twin fold-out blades.
Why do we love it?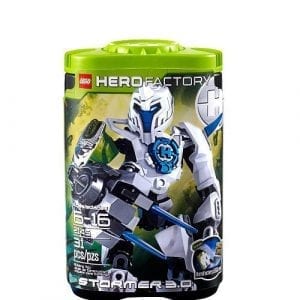 This toy is great because it facilitates several different types of development. They have to build it, which is always great for motor skills.
And once it is built they can create stories with their constructions.
Since the toy is fully rebuildable, it's much more likely to come apart at a connection than actually break. You'll get great durability out of this product.
What don't we like?
We aren't sure about this product with regard to its play-life. This may explain why there are already three models of this toy out. It's something that's better played with in your own world, so it might be hard to get other kid involved.
There's no skill aspect either.
If you buy multiples of these toys, you might be able to have a longer play-life however. Each of these comes with a different look, style, and features. So if you get two or more you can mix and match or even combine them to make an ultimate stormer.
If you do end up with a problem though, you may be out of luck. Lego's terms and conditions notes that they provide their products "as is" without any warranty not required by law.
In practice, however, Lego is said to be pretty amenable if you just get in contact with their customer service department.
Features
Rhino fist
Wrist rocket
Fold out blade