This is another one that's highly recommended for beginners. It's got a high build quality that makes it easy to play without having to put forth too much effort. It's also got a price tag that seems reasonable if you're just starting out. While it's one of the best harmonicas for beginners, that doesn't mean it sounds like a starter harp. Pros use Lee Oskar instruments for their unique tone and consistent quality, making them a great choice for players of all levels.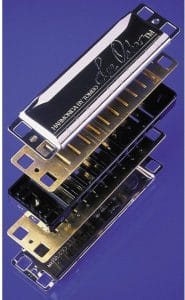 The sound of Lee Oskar harmonicas is bright and clear, making them perfect for rock and country players. The cover is designed to give the reeds more room to resonate, which improves the projection, making this a great option if you're playing with a louder ensemble. The reeds are close-spaced for quick playing and sit in recessed beds that reduce air leakage. They're also a lot easier to bend than similarly-priced options, so you can do all the soulful blues riffing your heart desires.
One thing that sets this harmonica apart from similar models like the Marine Band is that you can replace the reed plates if they wear out. Lee Oskar sells replacement plates to fit all their models. They're mounted to the comb with three self-tapping screws, making it easy to swap them out yourself.
The Lee Oskar Major Diatonic harmonica is arguably one of the best values you'll find in your search. While purists might turn their nose up at the plastic cone, the sound quality is still fantastic and has an impressive dynamic range. If you want a harmonica you can play hard and not wear out, this is a great one to check out.
Features:
Key: C major (also available in all 12 diatonic keys)
Tuning: Diatonic
Cover: Stainless steel
Comb: Plastic
Holes: 10
Reeds: Brass